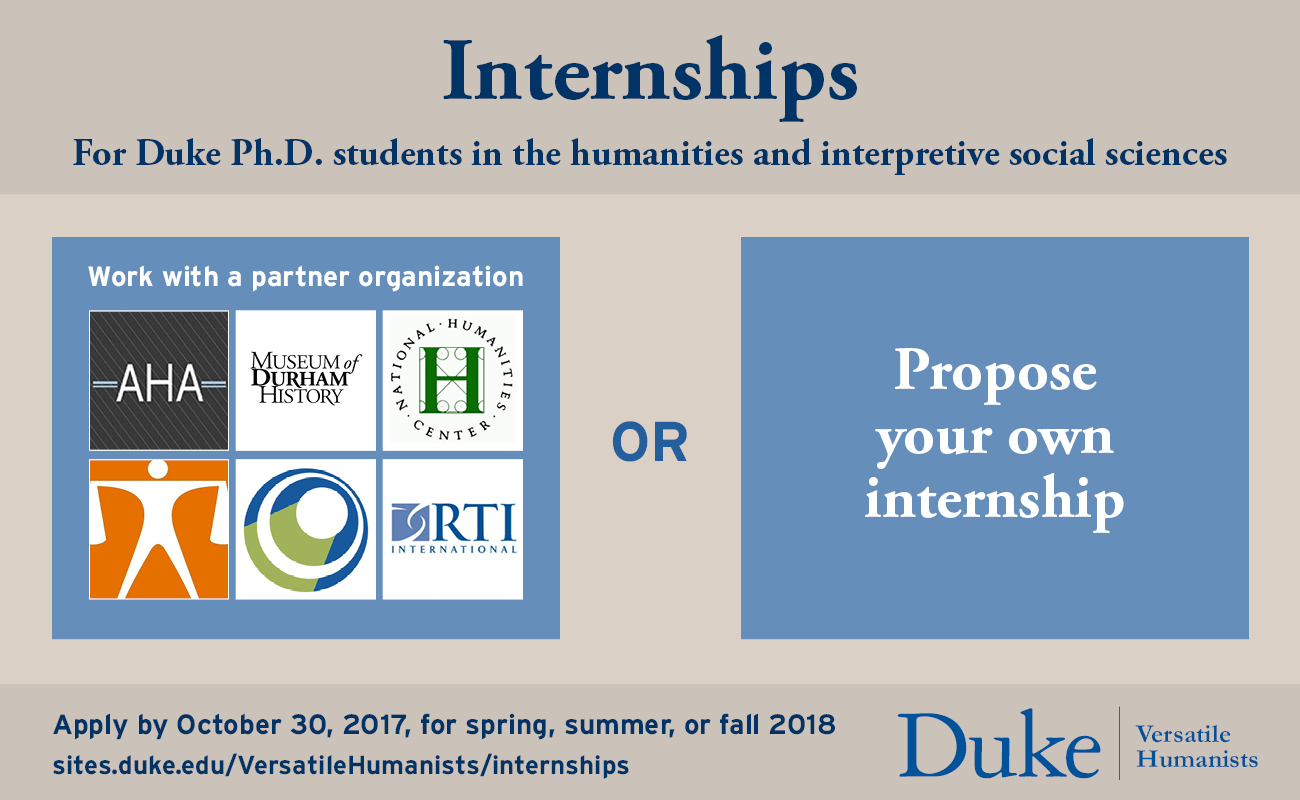 Note: The information below pertains to the application cycle for 2017-18. A call and application instructions for 2019 internships (summer and fall) will be posted soon. 
VH@Duke Internships provide Duke doctoral students in the humanities and interpretive social sciences exposure to work experiences, organizations, and professions relevant to their scholarly interests. Versatile work experiences, carefully chosen and timed, can enrich students' dissertations, and make them more competitive for both academic and non-academic positions. Internships can also provide humanities scholars with increased leadership ability and confidence, as well as new skills to position them well for future success as junior faculty members, emerging professionals both within and beyond academia, and public intellectuals.
This program provides an exciting opportunity for Duke doctoral students to intern at cultural and nonprofit organizations throughout the Triangle and elsewhere. These are stipended positions and are meant to replace other compensated work (such as research assistantships) during the period of the internship.
During the term of their internship, VH@Duke interns are expected to reserve time in their schedules for occasional checkin lunches and monthly cohort meetings (either on campus or videoconference, as the situation allows). At the conclusion of their internships, participants will be asked to reflect on their experiences via the VH@Duke blog (and possibly other media).
Read about last year's VH@Duke interns. 
Read about how one Duke PhD student created her own internship. 
Timing and Financial Support:
Internships can be completed in spring, summer or fall 2018. Students will receive a stipend for participating (ranging from $4,000 to $6,000 depending on the duration of the internship). Students in years 1-5 can expect to receive their usual funding package. For students in years 6 and beyond, tuition will be covered for the term of the internship. All stipend payments will be processed through Duke departmental payroll.
Internships will require between 15 and 19.9 hours of work per week and will last up to 15 weeks (and no fewer than 12 weeks). Students may not teach or hold other compensated positions for the duration of the internship.  Exceptions may be made in rare cases, but must be approved by VH@Duke.
Eligibility:
Students must be enrolled full-time during the period of any internship.
Students must consult with their departmental advisors and Directors of Graduate Studies about the advisability and optimal timing for any proposed internship.
Participating students must be pre-approved by their departments (providing letter signed by both DGS and advisor)
How to Get Started
There are two options for participating in the internship program:
Option One: Create your own internship opportunity at an organization that best suits your academic interests and/or professional goals. (For advice on how to approach prospective employers about internships, see here.)
Please be aware of the following guidelines and expectations as you go about planning a customized internship:
The position must be consistent in duration and hours (see "Timing and Financial Support" above) with other VH@Duke internships. Note that the organization may have its own needs/preferences about when to host an intern.
The position must be on-site. We expect that interns will spend the bulk of their time at the organization, engaging in face-to-face interactions with colleagues.
The work duties must be substantial. Although every position (especially at entry level) contains some element of rote work, the duties you are assigned should challenge you, help you grow as a professional, and allow you to add significant value to the organization.
 Option Two: Apply for pre-existing opportunities with one or more of the following partner organizations (a couple of additional opportunities may be added to this list by the end of September 2017)
Durham History Museum
National Humanities Center
For both options, please follow the application instructions below.
To Apply
We will begin accepting applications on Friday, September 29. The application deadline has been extended to Monday, October 30.
To apply, complete the online application. Applicants will need:
Names of three references with contact information (please note: we are not requesting letters)
One PDF file containing the following items:
Signed letter of approval from student's adviser and director of graduate studies (letter template)
Current CV
Current copy of Duke transcript or ACES report
An application letter that outlines:

The student's interest in the specific opportunity
Skills and competencies that will help the student succeed in the position
Explanation of how the internship will benefit student's academic and/or professional goals
Note: Students may apply for more than one pre-identified opportunity, but should submit a separate, customized application letter for each position.
Students proposing their own internship (OPTION 2) should follow the steps above AND provide the following additional information in their PDF upload:
Detailed information in the letter of application describing the organization and opportunity
A letter of commitment from the host organization, explaining how the internship is of mutual benefit and whether the organization can contribute to the stipend cost of the internship (Note: Host organizations are not required to contribute to the cost of the internship, but such contributions can be an important sign of the organization's commitment to ensuring that the experience is successful and can enable Duke to increase the number of internships it provides.
Selection process
Applications will be reviewed by a committee including representation from the Graduate School, the Provost's Office, and the faculty.
For pre-existing opportunities with Versatile Humanist partners (Option Two), the selection committee will forward the most competitive applications to the respective host organizations.  Finalists will likely be invited to interview on site in late November or early December.
All applicants will be notified of their status by the end of December.
Contact
For questions, please contact Maria LaMonaca Wisdom (maria.wisdom@duke.edu).